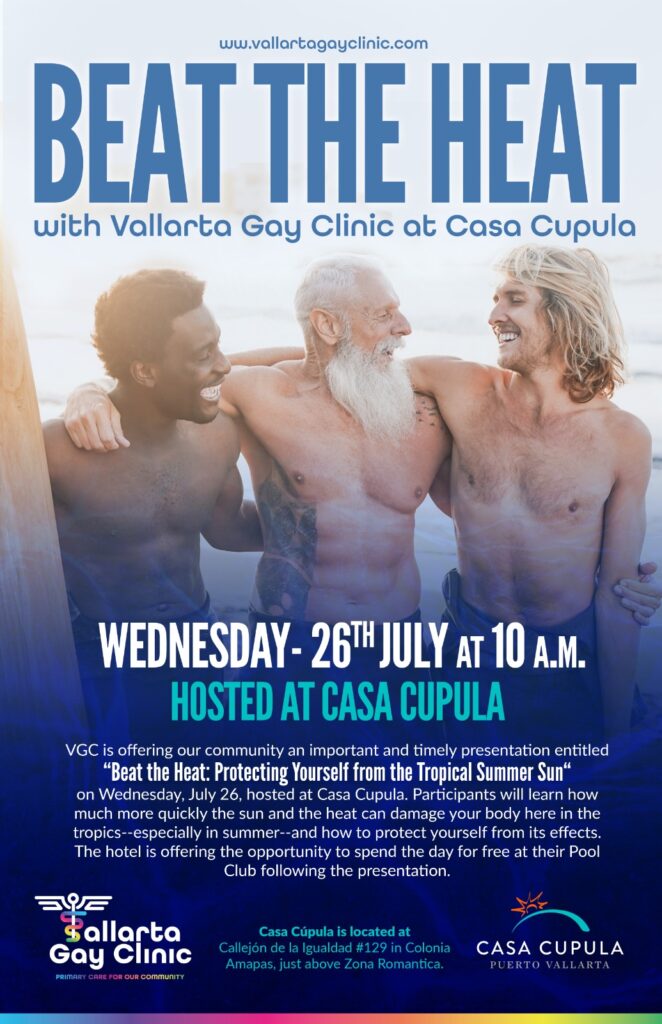 Vallarta Gay Clinic is offering our community an important and timely presentation entitled "Beat the Heat: Protecting Yourself from the Tropical Summer Sun," on Wednesday, July 26, hosted at Casa Cupula. Participants will learn how much more quickly the sun and the heat can damage your body here in the tropics–especially in summer–and how best to protect yourself from its effects. The hotel is offering a light coffee service and the opportunity to spend the day for free at their Pool Club following the presentation.
Dr. Miguel Buenrostro, the Clinic's medical director, will discuss several key factors about our tropical environment that can create health problems, both short-term and long-term. For instance, staying properly hydrated when spending time outside in the heat is the best solution for preventing heat stroke and dehydration. And protecting ourselves now from sunburn from harmful UVA and UVB rays is vitally important for preventing skin cancers and melanomas later in life. Protection is especially important for those taking certain medications, which the doctor will list individually.
This discussion is perfect for those who have relocated to Vallarta recently, or from northern climes, and who may not yet be accustomed to the steamy summer weather here. While the talk is designed for our members and patients, it is free and open to the public as a service to our local Community! Please join us at Casa Cupula on Wednesday, July 26, at 10:00 a.m., and bring your swimsuit!
Vallarta Gay Clinic offers primary care for Vallarta's LGBT Community, also with specialties in LGBT care and geriatric care. It is located at Lázaro Cárdenas #379 in Zona Romantica with office hours M-F 9:30-6:00. Casa Cúpula, Vallarta's leading LGBT boutique hotel, is located at Callejón de la Igualdad #129 in Colonia Amapas, just above Zona Romantica.