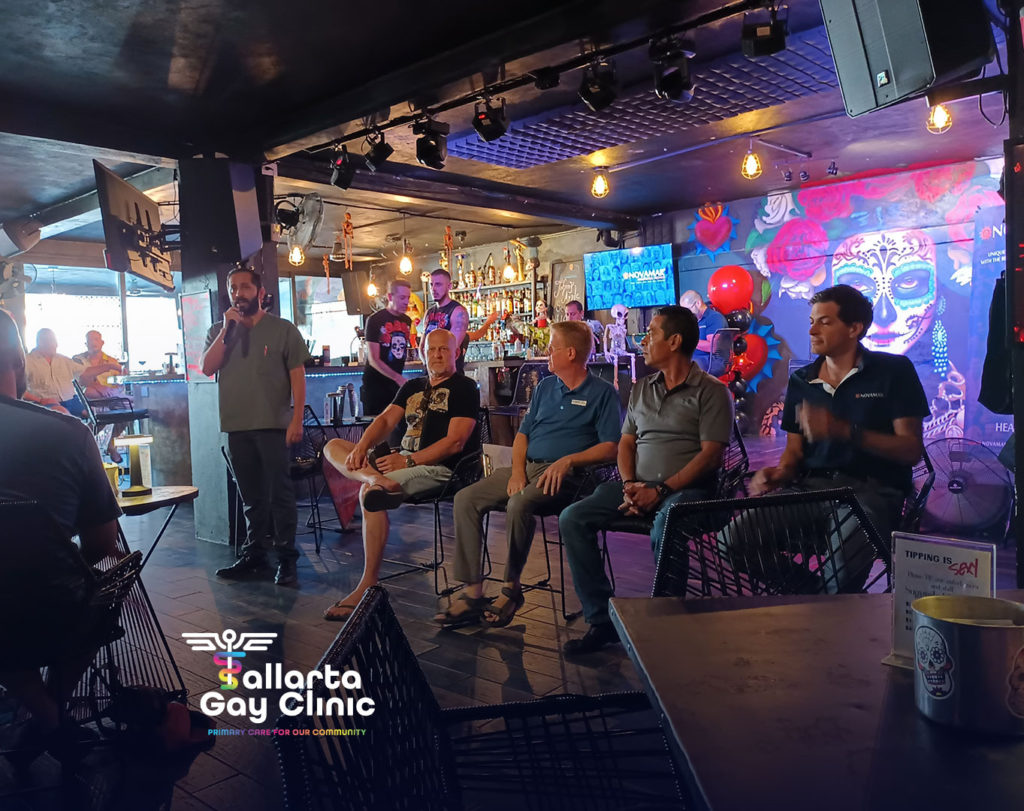 Vallarta Gay Clinic held an informal discussion about health insurance in Mexico for expatriates at Catrina Cantina in Zona Romantica on Thursday, May 11. 
A panel of experts on Mexican and international insurance offered their best guidance on the steps that temporary and permanent residents in Mexico should take to obtain coverage, either from their home country or here in Mexico, or both.
Dr. Miguel Buenrostro, VGC's medical director, introduced the discussion and the panel and Robert Schley, VGC's administrative director, spoke briefly about the new membership discount program.
Bill Williams, a retired corporate insurance broker in the United States, opened the discussion and outlined several important steps that people should consider taking if they plan to live in Mexico either permanently or semi-permanently:
–Register with a local physician or medical practice, who can help you navigate the complexities of the Mexican healthcare system.
–Register with a local hospital and give them your details, to facilitate your admittance there in case it ever becomes necessary.
–Register with the local consulate of your home country.
–Carefully investigate your insurance situation in your home country and find out exactly how much international coverage you're eligible for, and what options you might have for getting covered in Mexico.
–Investigate the costs and coverage available with Mexican private health insurance with a reliable and reputable insurance agent, such as the ones present at the discussion.
Emmanuel Gonzalez, an independent insurance broker with decades of experience in hospital and pharmacy management, and Pablo Castellanos, representing Novamar Insurance, then gave more-detailed presentations about the public and private health-care systems here in Mexico, the average costs of private insurance policies, the limitations and restrictions around pre-existing conditions, and how international residents can best protect themselves against unforeseen health issues. Following the presentation, the floor was opened to a wide range of questions from the participants.
VGC plans to offer similar discussions on health insurance and other health-oriented topics important to our Community on a regular basis.
Vallarta Gay Clinic is a new concept for healthcare in Puerto Vallarta. We offer integrated primary and specialized care to members of Vallarta's Gay Community, and it's our goal to become your medical home base if you live here in Puerto Vallarta or spend a lot of time here. We have specialties in primary care, LGBT health, geriatric health, and emotional health, and we're developing programs on urgent care, home-health care, medical concierge and wellness coaching.